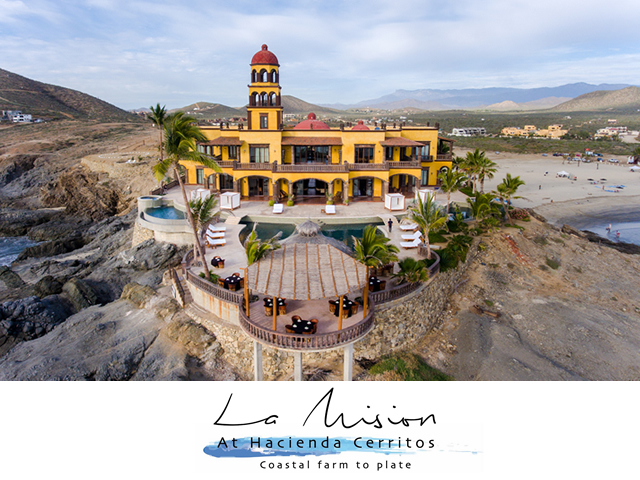 La Mision, At Hacienda Cerritos
La Mision at Hacienda Cerritos es un lugar único, de reciente apertura en Todos Santos. Localizado en la mejor ubicación de la internacionalmente famosa Playa Cerritos, en lo más alto de un peñasco, rodeado de rocas y mar, con una vista increiblemente bella del Óceano Pacífico.
Con nosotros podrá disfrutar de lo mejor de la comida internacional; siendo nuestra especialidad ofrecer lo más fresco en productos del mar y el huerto, ya que todos nuestros ingredientes son cosechados diariamente en las granjas cercanas de Todos Santos, al igual que nuestros pescados y mariscos siempre frescos, gracias a nuestros amigos pescadores locales.
Nuestro Chef Ejecutivo Ahmed Olvera los deleitará con sus platillos, acompañados de una amplia selección de vinos nacionales e importados para consentir a su paladar, mientras contempla los hermosos paisajes que sólo en nuestro restaurant podrá disfrutar.
Si aún no lo conoces te recomendamos visitarlo
!Te fascinará su ambiente, servicio y sabor!

Menú
Coastal farm to plate !

Breakfast
Hot Oat Meal
With toast and accompanied with homemade marmalade $175
Classic
Green Apple and Cinnamon
Walnut and pear
Seasonal fresh fruit salad $175
With granola, yogurt or cottage cheese, honey and toast
Any style eggs $230
Two eggs accompanied with beans, toast and potatoes.
3 ingredients Omelet $250
Spinach, mushroom, onion, tomato, cheese, pepper, bacon or ham, you choose. Includes beans, toast and potatoes.
With Shrimp $270
Benedict Eggs $260
On top of a bagel, bacon and hollandaise sauce.
Chilaquiles $230
Delicious tortilla chips with red sauce, cheese and red onion. Add
Egg $240
Chicken $250
Arrachera $260
Pan cakes $240
With fresh fruit and bacon
French Toast $195
With sugar, cinnamon dusting and fresh fruit.
Extra sides
Toast $70
Bagel $80
Bacon $75
Ham $50
Egg $40
Beverage
Fresh squeezed orange juice $80
American coffee (Veracruz/Chiapas house mix) $50
Milk $40
Tea $50
Hot Mexican chocolate $60
Bottled water $40/$80
Soda $50
Lemonade/ Ice tea $60
Salads, subs and lunch
House´s salad $230
Mixed organic lettuce, cherry tomatoes and season vegetables with walnut and cilantro dressing.
Spinach Salad $210
Spinach leaves, olives, apple, almond, avocado with mango dressing.
Grilled vegetables salad $270
Eggplant, carrot, peppers, zucchini, onions and chicken with chipotle dressing.
Sautéed vegetables Sandwich $230
Season vegetables, mixed lettuce, tomato and cream cheese.
Grilled chicken breast sandwich $250
With mixed lettuce tomato, onion, melted cheese, and chipotle dressing.
Hamburger Misiones $250
Perfect seasoned lean ground beef with mixed lettuce, tomato, pickles, bacon, melted cheese finished with our special herbs dresser and French fries.
Portobello Mushroom $230
Delicious grilled Portobello mushroom with mixed lettuce, tomato eggplant, peppers, all with herbs vinaigrette and house salad.
Mexican Nachos $220
Tortilla chips with cheddar, mozzarella cheese and refried beans topped with guacamole.
With chicken $260
With Arrachera or Shrimp $270
Fajitas $350
Chicken or beef fajitas with green and red peppers, onion and guacamole.
Quesadillas $210
Classic quesadillas with chicken
With arrachera or shrimp $250
Al ajillo Shrimp $420
Fresh shrimp with garlic and chile guajillo finished with cheese cream on top.
Arrachera steak $490
Perfect for tacos hunger, with beans, rice, guacamole and Mexican salsa.
Dinner
Appetizers
Mushroom margarita $220
Stuffed mushrooms with fresh basil, cherry tomatoes and mozzarella cheese.
Mexican Nachos $260
Tortilla chips with cheddar, mozzarella cheese, refried beans topped with Flank steak or chicken and guacamole.
Pintxos land and sea $210
Delicious bites of filete tips, seafood and vegetables.
Mini ceviche tostadas $210
Ceviche of fish, octopus or shrimp on mini chips
Baked Potato Skins $190
Classic with cheddar cheese, bacon, green onion and sour cream.
Stuffed garden jalapenos Stuffed garden jalapeños $210
Cream cheese, mozzarella, cheddar, bacon, green onion, sweet pepper and cilantro.
Clams La Misión
Serrano pepper, fresh parmesan cheese, touch of mozzarella and green onion.
Salads
House´s salad $230
Mixed organic lettuce with season vegetables, cherry tomatoes, goat cheese and walnut, with a cilantro dressing.
Cesar s Salad $250
Leaves of baby roman lettuce, leaves of parmesan cheese, crouton and grilled chicken breast.
Spinach Salad $210
Spinach leaves, olives, apple, almond, avocado with mango dressing.
Grilled vegetable brochette $240
Three skewers with eggplant, zucchini, tomatoes, red pepper and baby onion dressed with a balsamic vinaigrette.
Soups
Aztec soup $185
Ancient Mexican dish combining tomato, onion and peppers, acompanied with tortilla chips, avocado and fresh cheese and dry chile guajillo on top.
Cerritos Coastal Bisque $195
Traditional french recipe with shrimp and clams locally collected off our coasts.
The land and the sea…
Fillet mignon $640
Prepared with rosemary butter and accompanied with roasted seasonal vegetables and herb-spice potatoes.
Sea food brochette $490
Shrimp, octopus and vegetables brochette marinade in olive oil and lemon, accompanied with roasted vegetables and salad.
Al ajillo Shrimp $420
Fresh shrimp with garlic and chile guajillo finished with cheese cream on top and accompanied with roasted vegetables and salad.
Chicken Francaise $390
Pan fried fillet in a white wine and lemon butter sauce.
Chicken Marsala $410
Golden pan-fried chicken with organic mushrooms prepared in a Marsala wine sauce with a touch of garlic and spritz of fresh lemon juice.
Clams Linguini $210
Fresh handmade linguini clams served with a wine butter sauce.
Tuna medallions $510
Marinated in olive oil and garlic, direct to the grill griddle accompanied by roasted vegetables.
Mexican arrachera $490
With guacamole, salsa, refried beans and potatoes, guacamole and Mexican salsa.
Catch of the day risolado $395
Fish of the day in pan with chile güerito infused butter and herbs, accompanied by roasted vegetables and house salad.
Deserts
Banana flambe with controy $180
Natural frozen fruit bars $140
Panacota with season fruit jelly $160
La Misión ice cream $140
Ask for daily flavors
Rich chocolate brownie with ice cream $190
Homemade apple pie with La Misión vanilla ice cream $180

Ubicación:
Hacienda Cerritos, Playa Cerritos, Todos Santos, Baja California Sur.
Horario:
De Martes a Domingo 5:00 pm a 1:00 am
Contacto:
Teléfono para reservaciones e información 01 (612) 141 8344


SERVICIOS CON QUE CUENTA
| | |
| --- | --- |
| Estacionamiento Propio (private parking) | |
| Wi Fi | |
| Servicio a Domicilio (home delivery) | |
| Sucursales | |
| Servicio para Eventos (catering and events) | |
| Ordene y Recoja (order and pick) | |
| Servicio de Reservación (reservations) | |
| Valet Parking | |
| Acepta Tarjetas (Credit Cards Accepted) | |
| Aire Acondicionado (Conditioned air) | |
| Área con juegos para niños (as) | |
| Terraza | |
| Área para fumar | |
| Acepta mascotas | |

NUESTRAS RESEÑAS EN TRIPADVISOR


SÍGUENOS EN FACEBOOK AQUÍ